The WVDEP provides downloads for GIS data developed or maintained by the agency, either from this page or the Open Data Hub
Note that shapefile attribute fields may be truncated due to a 10 character limit on field widths.

In addition to commercial GIS software, QGIS is open source software that can read file geodatabases. ArcGIS Earth is recommended for viewing shapefiles.
Vector data
LiDAR data
WVDEP Lidar data was collected by the Natural Resource Analysis Center at WVU under contract with the West Virginia Department of Environmental Protection, Division of Mining and Reclamation.
The data was collected between 04/09/2010 and 12/13/2011 during leaf-off, snow and flood free conditions in the spring and fall. This is now an historical elevation data source. More current lidar is now available through the USGS 3DEP program.
The data format is 1.5x1.5 km LAS v1.2 files in UTM 17 NAD83 (CORS96), NAVD88 (GEOID09). Contractor software initially classified ground returns for comprehensive and bare earth tiles, but did not perform other classifications. The Technical Applications and GIS (TAGIS) unit at the WVDEP performed Quality control checking and error correction on a tile-by-tile basis before creating derived products and edited LAS files.
Individual LAS format tiles are available for download directly here. Tiles are 1.5km square. Using the application is easy-- just zoom in until the 1.5km tile grid is visible and click on a tile. A popup window will contain a link to the tile. Tiles also can be downloaded directly from the lidar repository
Hardware and flight parameters:
Scanner: Optech ALTM-3100
Post Spacing (Average): 3.3 ft / 1.0 meter
Flying Height (Above Ground Level): 5,000-ft / 1,524 meters
Average Ground Speed: 135 knots (155 MPH)
Scanner Pulse Rate Frequency: 70,000 Hz
Scanner Frequency / Field of View: 35 Hz / 36 degrees (18 half angle)
Overlap (Average): 30%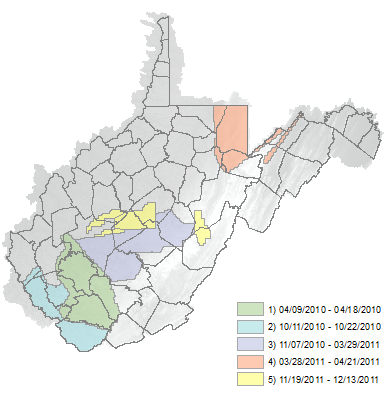 Lidar Documents & shapefiles:
--
dataset boundaries for lidar datasets in West Virginia
--
tile boundaries for lidar datasets in West Virginia (shp)
--
tile boundaries for WVDEP lidar datasets in West Virginia (downloadable from this site)
--
metadata overview
--
deliverable_1_RAMPP_quality_assessment.pdf
--
deliverable_2_metadata.xml
--
deliverable_2_Project_Report.pdf
--
deliverable_2_RAMPP_quality_assessment.pdf
--
deliverable_2_Survey_Control_OPUS_reports.zip
--
deliverable_3_metadata.txt
--
deliverable_3_RAMPP_quality_assessment.pdf
--
deliverable_4_metadata.xml
--
deliverable_4_Project_Report.pdf
--
deliverable_5_Elk_ProjectReport.pdf
--
deliverable_5_metadata_Elk.xml
--
deliverable_5_Output_Control_Report_TugNotch.txt
--
deliverable_5_TugNotch_metadata.xml
--
deliverable_5_TugNotch_ProjectReport.docx
--
deliverable_5_TugNotch_ProjectReport.pdf